Project Description
Cortlandt Pitch proposes to develop an indoor recreational sports facility on an approximately 6 acre property located at 2226 Crompond Road. The facility would be used for sports, agility, and related fitness training, as well for competitive game play. The facility would include a building approximately 67,700 square feet in size containing a turf field; a sports specific weight training and cardio room; a flexibility and core training room and accessory sports supply booth; kid's zone; a coaching/training staff office; a small concession and reception area; ADA compliant bathrooms; a party room; a climate controlled seating and spectator area; an isolated field area for players and coaches; warm-up and waiting areas; and video games. The project will include 125 paved parking spaces and 50 land banked (an undeveloped area set aside on the site that can accommodate up to 50 parking spaces in the future if needed) parking spaces.
To build the project, the applicant has requested that the property be rezoned from R-20 to Community Commercial Zone (CC). The zoning petition also requested that the Town of Cortlandt Town Code define the term "Physical Fitness Facility".
Comments/Questions? Please email to: Planning@townofcortlandt.com. Please be sure to put "Cortlandt Pitch" in the subject line of your email. Thank you.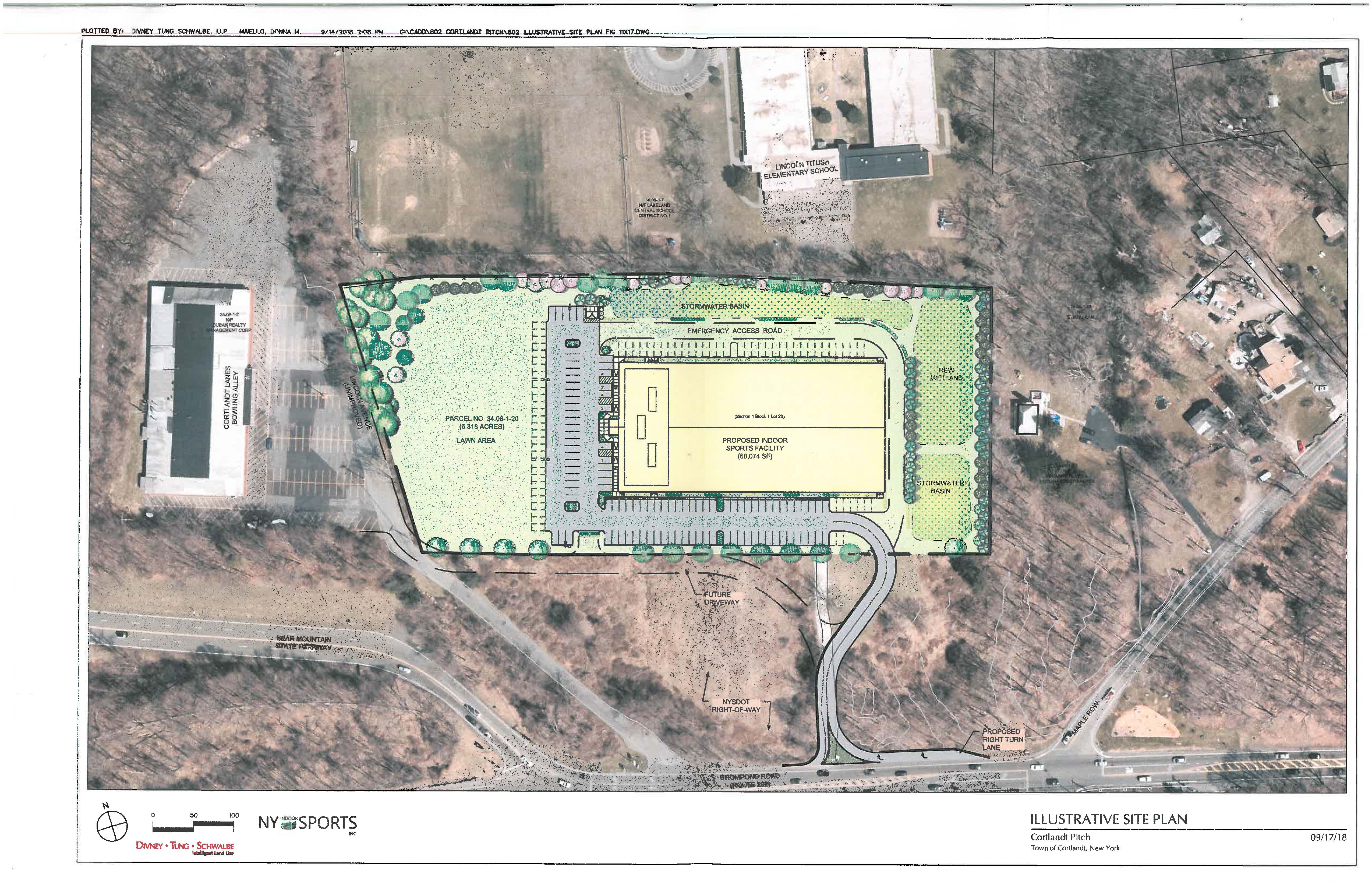 Cortlandt Pitch Public Hearing Notice
Environmental Assessment Form (EAF)
Cortlandt Pitch EAF Correspondence
Cortlandt Pitch EAF Parts 1 & 3 and Project Narrative
Cortlandt Pitch Final Traffic Impact Study
Cortlandt Pitch Full Size Drawings
Cortlandt Pitch Phase 1A_1B_ Final
Cover Letter Town Board ltr 9.17.18
Tree Protection Plan and Action Key
Wetland and Soils Survey Report
Traffic Chapter Appendices