Please select a year.
Budding Artist: Oscar Thoreson
Release Date: April 25, 2023
As we come to the end of Budding Artists exhibition, our focus shifts to the high school participants. The exhibition runs through May 4th and we encourage everyone to stop by Town Hall to view all the featured works in person!
Today's featured artist is 9th grader, Oscar Thoreson. If Spring is a time of shifting attention and awareness, how does an artist define these concepts visually? By mining a well-recognized comic book character as the subject of his work, Oscar draws one of the visual symbols for awareness. Lightning bolts in another context have a very different meaning. When paired with Spider-Man we draw from our common knowledge and the rich history of the comic books to decode what we see, pairing a well-defined symbol with new meaning.
"I enjoy drawing and sketching in an anime style as well as caricatures portraits. Ever since I was a little kid, I drew the superheroes and animated characters I watched on tv. I like the process of getting the proportions exactly right. Sketching has always been my calm and happy place." – Oscar Thoreson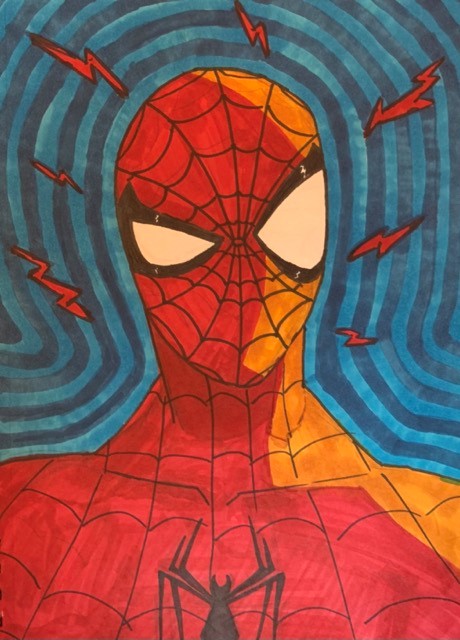 Spidey Senses
2021
Marker, ink, and graphite on paper
12 x 9 inches