Robert E. Mayes
Town Board Member
(term expires 12/31/2023)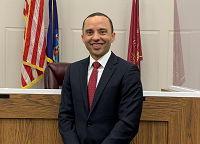 Town Hall: 914-734-1002
Councilman Robert Mayes was unanimously appointed to the Town Board in February 2022 and subsequently elected in his own right the following November. Prior to joining the Town Board, Robert served as both a Lakeland Board of Education Trustee and as a member of Cortlandt's Planning Board. He was on the Board of Directors of CLUSTER Community Services, a non-profit providing mental health, housing, mediation, and youth & family services. He also served on the executive board of Cortlandt American Little League, is a Cub Scout Den Leader, and is a past vice-president of the Lincoln-Titus Elementary School PTA.
As an attorney, Robert has worked for both state and local government and served for more than a decade as an Assistant District Attorney in Westchester County. He presently presides over administrative hearings for the NYS Department of Corrections & Community Supervision.
A fifth-generation Cortlandt resident, Robert's family first immigrated to Cortlandt in 1905. He grew up in Cortlandt Manor and attended Lakeland Schools. He earned a B.A. in Criminal Justice, magna cum laude, from the University at Albany and graduated from the University of Florida School of Law. A lifelong Cortlandt resident, Robert, his wife Jessica, and their two children currently reside in the Crompond area of the town.