Please select a year.
Press Release - Field Home Grant to the Town of Cortlandt
Release Date: March 07, 2019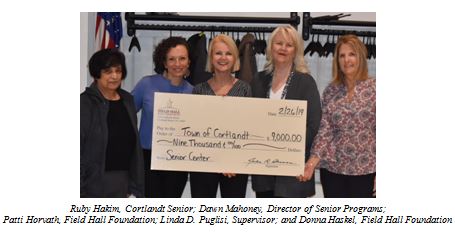 Field Hall Foundation
Awards a $9,000 Grant to the Town of Cortlandt
CORTLANDT MANOR, NY, FEBRUARY 28, 2019 – The Field Hall Foundation has awarded a $9,000 grant to the Town of Cortlandt. The grant will be used to purchase new computer equipment and software for the Muriel H. Morabito Center Senior's Computer Lab. The new technology will provide the seniors with better access to the internet and to pay their bills and email and Skype with family and friends. Having the latest technology will also allow the Center to offer the seniors computer classes on the latest software programs and apps.
Supervisor Linda Puglisi accepted the grant and thanked the Foundation, "I am very pleased that the Field Hall Foundation granted our Senior Center $9,000 to be used for new computers and other technology. This grant will provide updates to our current computers and, therefore, will benefit our Seniors. Special thanks to our Senior Center Director, Dawn Mahoney for submitting the application for this important grant. We all thank the Field Hall Foundation for their generosity."
This grant is part of the Field Hall Foundation's inaugural grant cycle, in which $274,000 was awarded to eight grantees. Information on all recipients in the first cycle, as well as grant guidelines and important dates can be found on the Foundation's website: http://www.fieldhallfoundation.org.
About Field Hall Foundation
In 2018, Fieldhome sold its nursing home, assisted living residence, adult day care and child care programs. The proceeds from the sale were placed in the existing Foundation to begin its grant giving program. The Foundation's mission is to improve the lives of older adults and their caregivers in Westchester, Putnam and Dutchess Counties.
For more information:
Patti Lavan Horvath
Program Officer
Field Hall Foundation
2302 Catherine St.
Cortlandt Manor, NY 10567
914-813-9103