Cortlandt Town Center Community Room (CUE)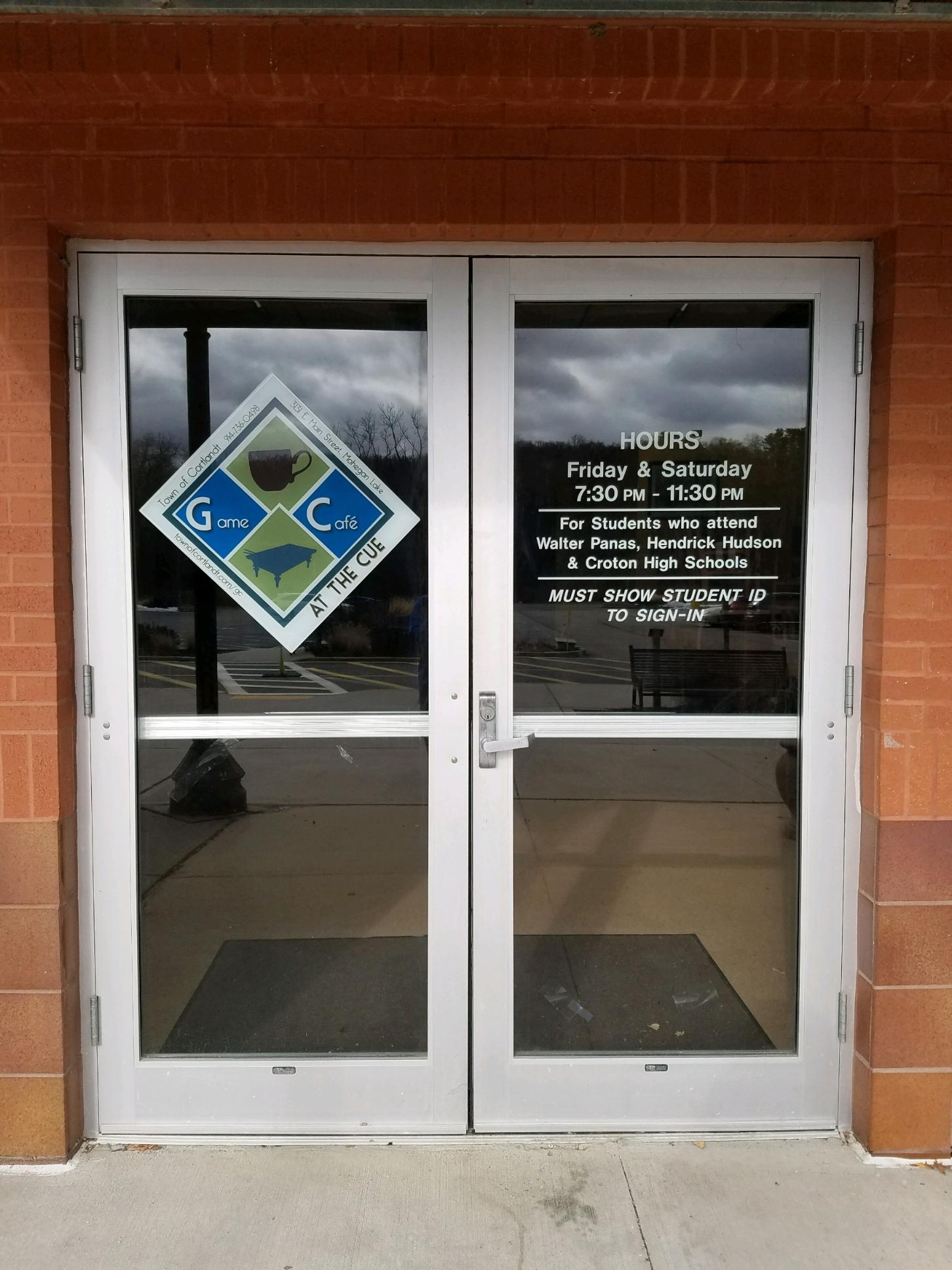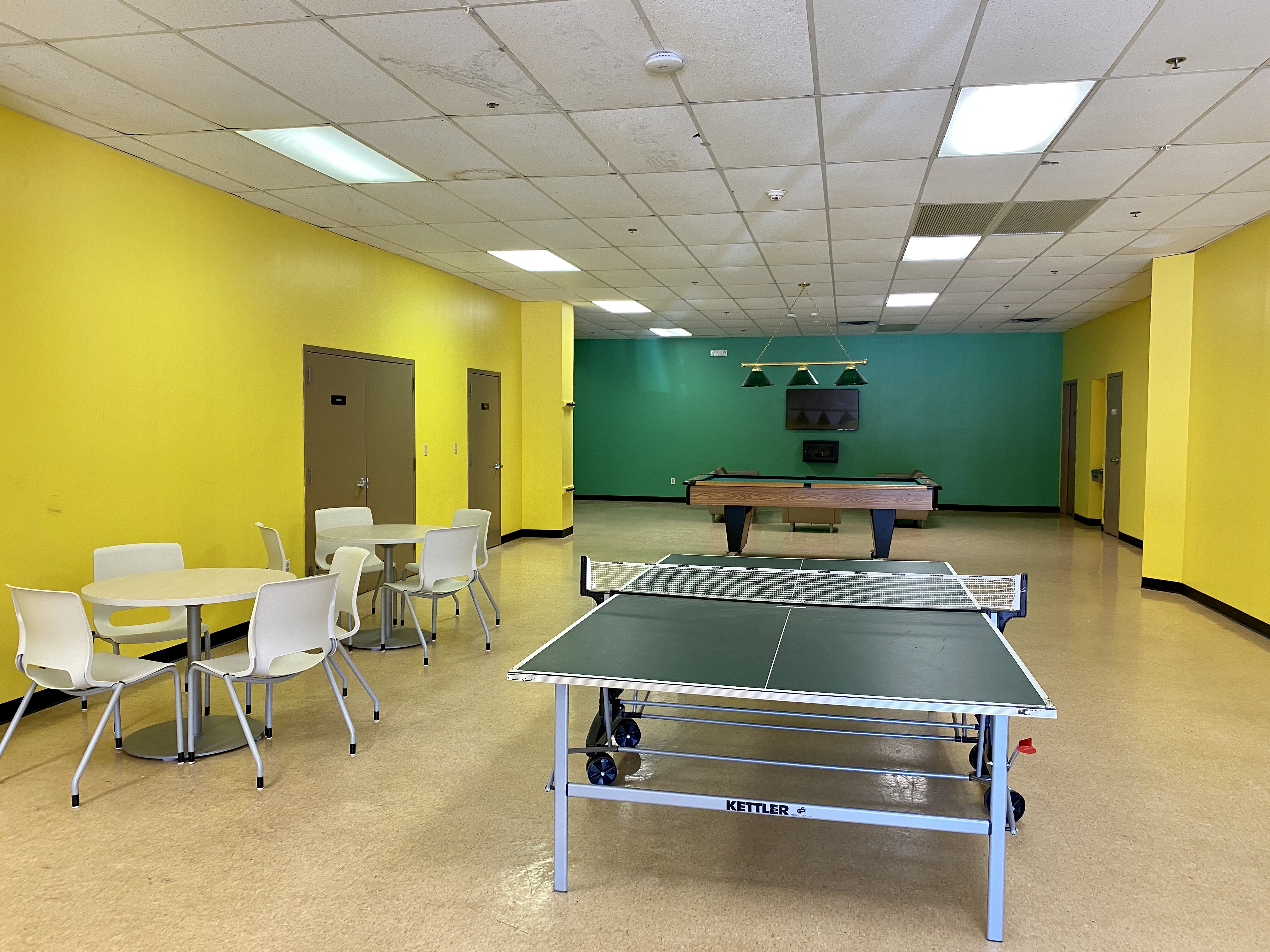 After the renovation and expansion of the Cortlandt Town Center, the Town of Cortlandt opened a 4,000 square-foot community space there. The Cortlandt Town Center Community Room is located off Route 6 and offers programs and activities to Town residents of all ages. On Friday and Saturday nights the Community Room opens as the Game Cafe at the CUE, the Cortlandt Upper Teens Entertainment Center. Here all high school students can congregate in a fully supervised and safe environment. Teens can enjoy a coffee bar, refreshments, television, music, video games, and pool tournaments. The space is also available to rent by Town residents and Town groups. For information regarding space rentals, please see below.
RULES AND REGULATIONS FOR C.U.E. RENTALS:
Rental is available to Town of Cortlandt residents and Town of Cortlandt groups only.

Applicants must send in a letter of request and sign a contract for rental. Request must be made in writing to Cortlandt Recreation Division, Dept. of Environmental Services.

Rentals will not interfere in any way with Town of Cortlandt programs.

All Town of Cortlandt programs will receive first priority.

Rental fees are as follows:

Non-profit organizations - $25.00

Plus any set-up, clean up (OT rates) and damage costs

Residents (for private use rental) - $150.00

Plus any set-up, clean up (OT rates) and damage costs

Profit making organizations - $250.00

Plus any set-up, clean up (OT rates) and damage costs

Damage deposit by all groups - $300.00 cash

Damage/replacement costs:

Chair - $19.00 each

Table - $204.00 each

Chair dolly - $195.00 each

Table dolly - $199.00 each

Hangers – $40.00 (12)

Damage to room – actual cost of contractor repair (time and materials)

Lost keys – $141.00 per set issued

Trash Container - $76.00 each

Garbage removal - $20.00/bag

Clock - $40.00 each

Tack board - $70.00 each

Utility cart - $210.00 each

Window blinds – n/a

Clean-up – billed at current OT rate (2 hour minimum at double time)

o. Set-up – billed at actual costs whether OT rate or straight time

All room use including set-up and breakdown must take place between the hours of 11:00 AM and 11:00 PM.

No Smoking allowed in the facility.

No Alcoholic beverages allowed at any time or other illegal substances.

No vehicles are allowed on the sidewalks at any time.

No cooking allowed on premises (hot trays/caterers are permissible). On site clean up for catering is not possible.

Based on the event, a Town maintenance staff may be required to be on site, cost to be paid for by the rental group.

All garbage is to be removed from the room and taken off site; Cortlandt Town Center dumpsters may not be used for garbage removal purposes.

Groups are responsible for the cleanup of the room after use; room is to be left as found, debris swept/mopped, Town equipment returned to storage.

Keys are to be picked up and returned at the Recreation office at Town Hall, (Mon. – Fri., 9-3:30). Keys are to be returned by 3:30 PM on the first day of business following rental.

Town officials will be allowed access during rental if requested.

Deposit will only be returned after the room is inspected. Inspection will take place as soon as possible after rental during normal working hours.

Clean up of the room must be completed on the day of the rental unless prior arrangements are made through the Recreation Office. An additional daily rental fee will be required if clean up continues past 9 AM the following day.

Tables and chairs are to be folded and placed on their storage racks.

Rental groups may not store supplies/equipment at the Community room.
Please contact Colleen Anderson at COLLEENA@TOWNOFCORTLANDT.COM or 914-734-1052 for rental inquiries and with any questions or concerns.
---
Directions
From the South
Take Route 9 North to the Bear Mt. Parkway. Exit Route 6. Make a left at light at end of exit. Stay straight to 3rd light. Make a right into the Cortlandt Town Center. Follow road way around outside of Mall Parking Lot. Just pass Barnes and Noble on Right make the first right hand turn go to the end and make a right turn in front of Old Navy and then a quick left hand turn. You will be driving behind the Mall. Make the first left and drive till you see the Mall entrance in the back. Just to the right of the entrance on the outside of the building is the entrance to the Community Room.
From Route 6 (Peekskill)
Take Rout 6 east until you come to the Cortlandt Town Center Entrance across from Kohls and follow directions above.
From Route 6 (Mohegan Lake)
Take Route 6 west until you com to the Cortlandt Town Center Entrance just past McDonalds on the left. Make the first right go down to the first left hand turn in front of Office Max and follow the directions above.